Residential, Commercial Real Estate and Property Management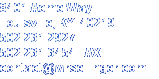 *

NEWS AND INFO FOR TENANTS

HAVE YOU REPLACED YOUR AIR CONDITIONING/FURNACE FILTER THIS MONTH?

If you are paying your rent on line and it is past the due date, you must include the late fee agreed on in your lease.
If it is not included it could be considered a breach of the lease. We also can not receive any late payment by
personal check. Late payments must be made in certified funds (cashier's check or money order), or pay direct
online with your PayLease account. If you have any questions about a late payment, please contact the
Management office.