Residential, Commercial Real Estate and Property Management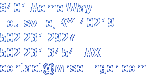 To pay your rent on-line:

To pay rent by mail, send checks and/or money orders to:
William R. Sellinger and Associates
P.O. Box 19607
Louisville, KY 40259

To pay rent with CASH at a local retail store, you must first set
up an account with the Management office who will issue you
an account number. To find a local retailer who will accept
your payment click here:
PayLease Cash Locations

All rent must be paid in full on the due date. Any rent received less than the full amount due, or
received past the 1st of the month is considered late and late fees will be applied and must be
included with any subsequent payment.