Whether you own it, or want to own it, we have the best information about how real estate can be a vital part of
achieving financial independence. Below is information for future owners, current owners and investors. Enjoy!

PERSONAL REAL ESTATE OWNERSHIP - WHAT DOES IT REALLY MEAN?

RENT VS OWN

ADVANTAGES OF REAL ESTATE OWNERSHIP

INVESTMENTS

1. Taxes
2. Interest
3. Equity
4. Appreciation
5. Insurance
6. Expenses
7. Repairs
8. Improvements
9. Depreciation
10. Rent Income
12. Cash Flow

PERSONAL

1. Taxes
2. Interest
3. Equity
4. Appreciation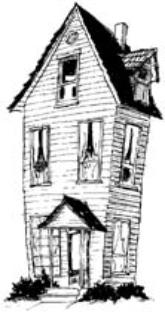 The basics

Real estate ownership can mean different things to different people. To the first-time
buyer it means no more rent and money invested in something you own.

The experienced home owner knows the financial advantages beyond ownership,
which include interest deductions on taxes, appreciation and growth of equity.

But to the investor, the advantages list grows considerably to not only include
appreciation and interest deduction, but the deduction from taxes for all expenses,
depreciation, rental income and cash flow.

3-BED, 2 BATH HOUSE

Rent $950.00
X
12 months
__________________

$11,400.00

Money lost...gone...
never to be recovered

$120,000 3.5% Down. 6% FHA Mortgage
$704.69 Principle and Interest
$ 90.00 Taxes
$ 50.00 Insurance
$ 48.88 Mortgage Insurance
________________________________

$893.57
Monthly Payment

Estimated Monthly Average Gain
$175.50 Interest
$ 27.00 Taxes
$500.00 Estimated average monthly appreciation
$120.00 Average monthly equity gained

Effective monthly payment

$71.07*

William R. Sellinger can
assist you to to take
advantage of the many
ways to use real estate to
build wealth.

This is an example of the results of a home purchase and does not
reflect an actual home payment. Mortgage interest, taxes and
appreciation can vary depending on the market, property, personal
financial situation and tax bracket.


}

Based on 30% tax bracket

*



Residential, Commercial Real Estate and Property Management