Steve Bowles
Executive Director





Residential, Commercial Real Estate and Property Management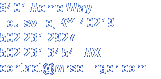 Over the past 15 years, Steve Bowles has focused his efforts on residential and commercial real estate,
property management and investment, partnering with William R. Sellinger and Associates (WRS), a
Louisville-based real estate brokerage and property management firm.

At WRS, Bowles is responsible for supervising agent and personal assistant activities, agency marketing,
and creates and maintains the company Web site and all client forms and materials.

Bowles is a licensed Kentucky real estate sales associate and assists clients to purchase and sell
residential and commercial property throughout the state. He also is a member of the WRS property
management team. Bowles developed the company leases and related documents, owner agreements,
shows property to potential tenants, inspects properties and prepares condition reports for owners,
analyze property values and viability for rental, hires repair subcontractors, assists the attorney on
evictions, and prepares all financial reports and accounting for owners.

Prior to joining WRS, Bowles was a veteran public relations executive with more than 25 years of
experience in public relations and journalism.